Post by bduc61 on Mar 24, 2014 19:46:01 GMT 2
Comme je ne trouve pas de post specifique sur les tubes Excell
allez j en demarre un
avec quelque photos et infos glanéees sur le net ( surtout en Anglais !)
Fondee par Mr Isidoro Rezze et basee a Lyon, la societe demarre semble t il dans les annees 80
Se specialise dans le tube acier haut de gamme et apparemment pas "butted " mais tres fin et "flat" et "rolled"
plutot au vanadium
des extraits de discussions de forum
"
Excell is very high grade and expensive French tubing. It derives much of
its strength through alloying with Vanadium rather than the more usual
Chromium and Molybenum.Of course it comes in a variety of gauges and
diameters so which tubes used and, as always, how it is joined is really
the question for its appropriateness to your needs. Very few makers use
it, but the most commen is the selection of models marketed by Gita as
"Giordanas" which are manufactured by the Italian builder Bellato
."
"
Excell was French tubing. I first became aware of it in the very late 1980s. They were notable for using super high strength, heat treated steels to produce very thin wall, plain gauge tubesets. They even marketed a carbon reinforced, brazeable tubeset. Offhand, I don't recall HR, so I presume it's probably more mid-1990s and may not necessarily reflect the earlier tubests which, IIRC were all 2xx designations
.
"
"
I believe that it was formed from flat sheet, rolled and welded. I have seen the seam welds referred to as "pearls' on some online discussions."
D apres tous ces post, il y aurait les tube
ECO
PODIUM
GLX
Mexico ?
Visiblement bien connecté avec des cadreurs italiens prestigieux, le tube a été apparemment apprécié et utilisé par
Dario Pegoretti
Giordana / sans doute construit par Billota
Ceratins modeles Lemond / idem sans doute cadré par Billota
Masi (modele Volumetrica)
Steelmann au USA
"
Dario Pegoretti used to build with it (may have built your Giordana) and new the Excell founder/owner. He told me that the gentleman was a "genius" and kind of eccentric. Dario said the tubing was amazing and way ahead of it's time.
"
Pegoretti aimait visiblement bcp ces tubes
forums.thepaceline.net/showthread.php?t=7719&page=1
forums.thepaceline.net/showthread.php?t=7719&page=2
"
what about excell. excell podium was considered by many to the best tubing available in the early 90's.
i've never ridden one- but those lemond glx frames that billota bros made were works of art- made from excell tubing.
"
Ici un Giordana XL en Excell Podium - donne a 3.6 lb donc livres anglaise ce qui fait 1.630 kg !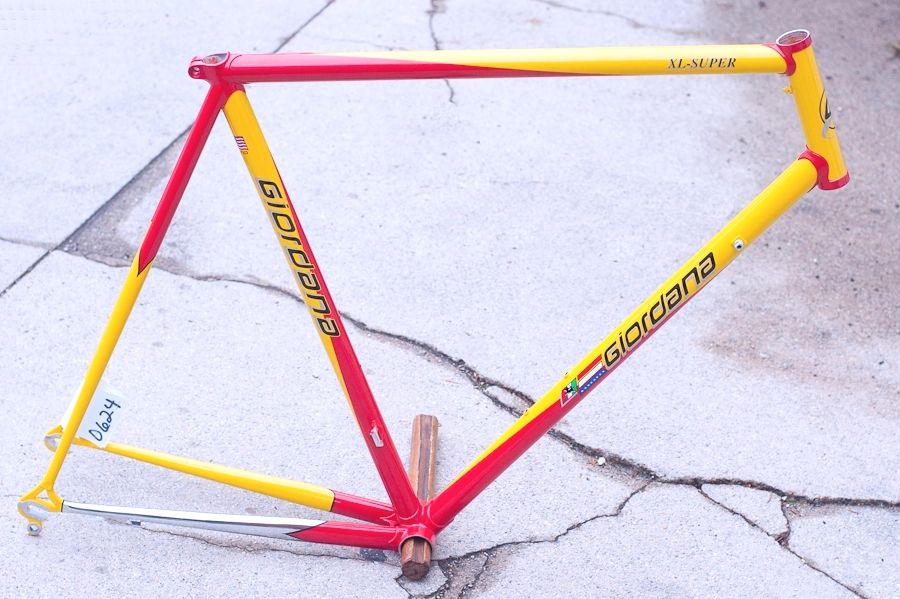 ici un post qui mentionne encore Giordana visiblement bien implanté aux USA mais aussi Haral ! et aussi Steelmann cadreur tres réputé au USA
"Just wanted to correct a little misinformation about Excell tubing and its
purported use for only small frames. I briefly owned a Haral CSK built with
Excell tubing - one of their conventional frames, as opposed to the more
familiar "funny bikes" they built in the later '80s and '90s. It was a
60cm, and even back then I wasn't a small guy - I go about 185 lbs. in
"racing shape." It was red cromovelato, bought on the cheap because the
candy clearcoat was badly scratched from lying around the shop. Sweet ride,
much like 753. I thrashed it for three winters and sold it for more than I
paid for it - it's one of the few non-custom bikes that I wish I still
owned, as it fit me to a "T". At any rate, I had no problems with its
stiffness, and it certainly didn't fail, so clearly either their formulation
or the additional heat treating made the tubing plenty strong.

I believe Brent Steelman built with Excell for many years, and there were
several models of Giordana-branded frames imported by Gita in the '90s which
were built with Excell - Podium was the specific tubing, IIRC. Don't know
who made them, but they were decent, and I never saw a failure there either.

Cheers.

Derek Vandeberg, Bigfork, Montana"


Alberto Masi a aussi utilisé le tube Excell notamment sur le modele Volumetrica ( pour une probleme de droit de nom, Masi vendait ses velos sous le nom Milano 3V aux USA)
il en avait encore en stock en 2003
milano3v.com/frame_inventory/index.php?frame=Steel
On est quand meme dans la crème des cadreurs italiens - dont je decouvre certains a cette occasion d'ailleurs !
J ai aussi decouvert que le GT edge Acier etait en tube Excell
"
My only experience with Excell tubing was in my GT Edge, Excell Super
Light. The tubing seemed strong enough. Coupled with the GT design
there was little or no BB movement. I weighed in at around 170 at the
time too.
"
Le tube specifique perlé a aussi ete utilisé en France par Haral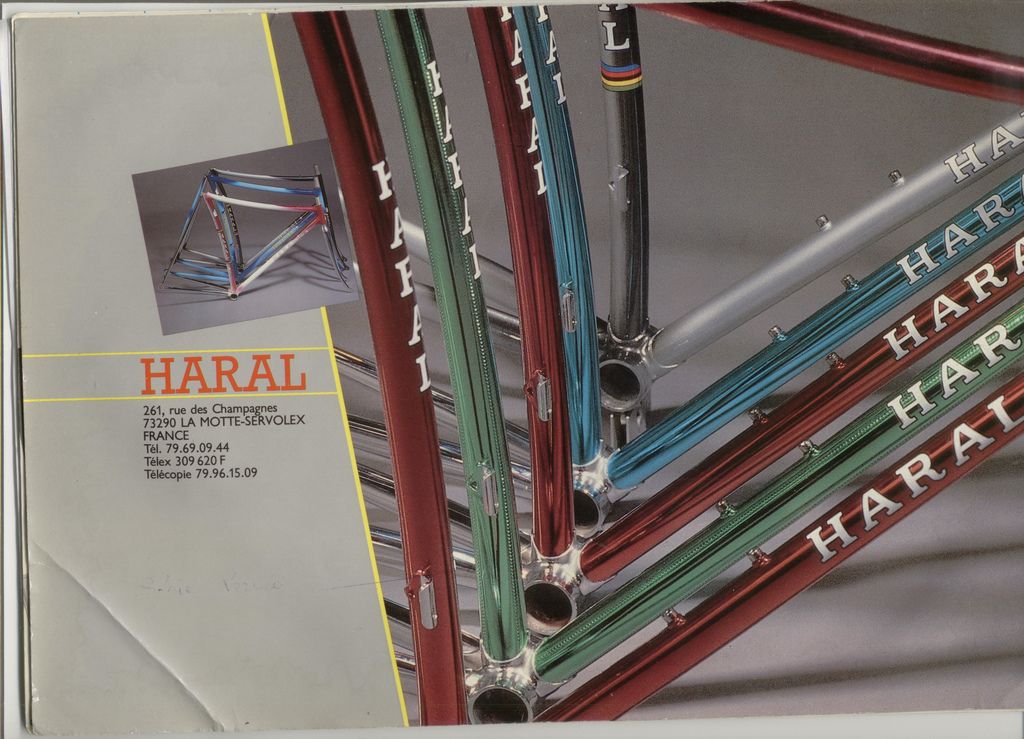 "
Haral was a builder of very high quality frames of all types, based in La Motte-Servolex in the Haute Savoie region They linked up with Isidoro Rezze, the owner of EXCELL tubes to build a large range of top-end frames with this series.

The frames illustrated are built from the Mexico I and Mexico II sets that were characterised by the slightly curved seat and top-tubes.. The Mexico I series had four lines of "beading" pressed into the tubes that resembled long lines of interlinked small circles..This feature was known as "perle " ( or pearled) It can just be seen on the green frame. On a frame finished with chrome plate covered by a clear coloured varnish the effect was sparkling.

The tubes were used for standard road racing frames as well as low-profile ones.
"
Ce qui est amusant c est que ce week end j ai rencontre 2 personnes possedant des velos dont le cadre est fait avec du tube perlé ( comme mon Alain Michel)
Un est un clm du meme Alain Michel
L autre un italien qui habite a Paris et qui l a achete a un ancien employé de Cinelli ( le pourquoi des stickers) mais qui sait que ce n est pas un cinelli
Incidemment dans sa cave mal eclairee j ai deviné plutot que vu un Supercorsa Cinelli des annees 60 , 3 Pinarello, un de Rosa, un Chesini, un Masi, dont parmi toux ceux la - 2 chromo velato
la plupart en campagnolo Nuovo Record !
Apparement, il en a 3 fois plus en Italie !
Sinon un exemplaire de cadre d un petit cadreur cannois "Serratore" qui est superbe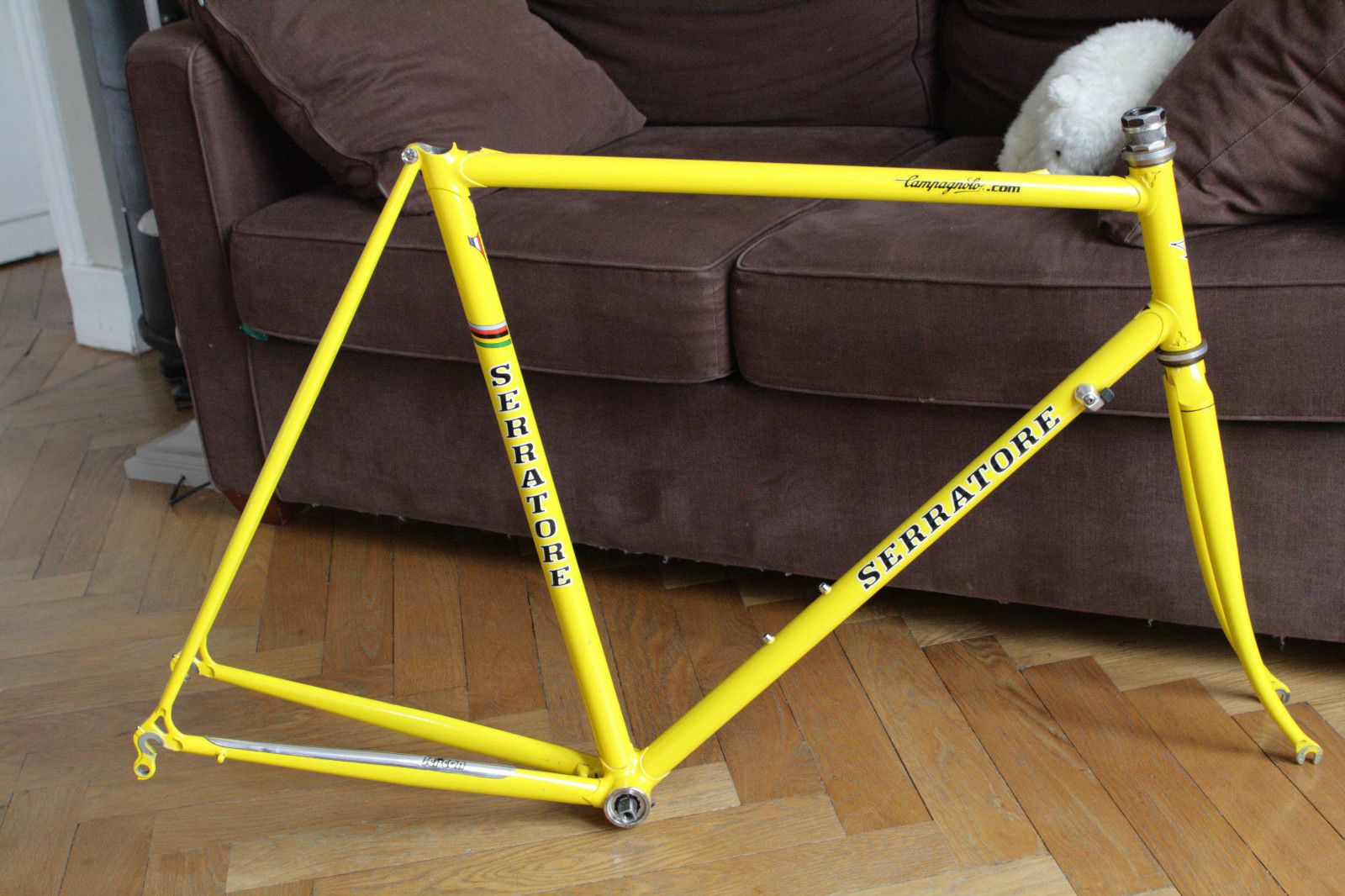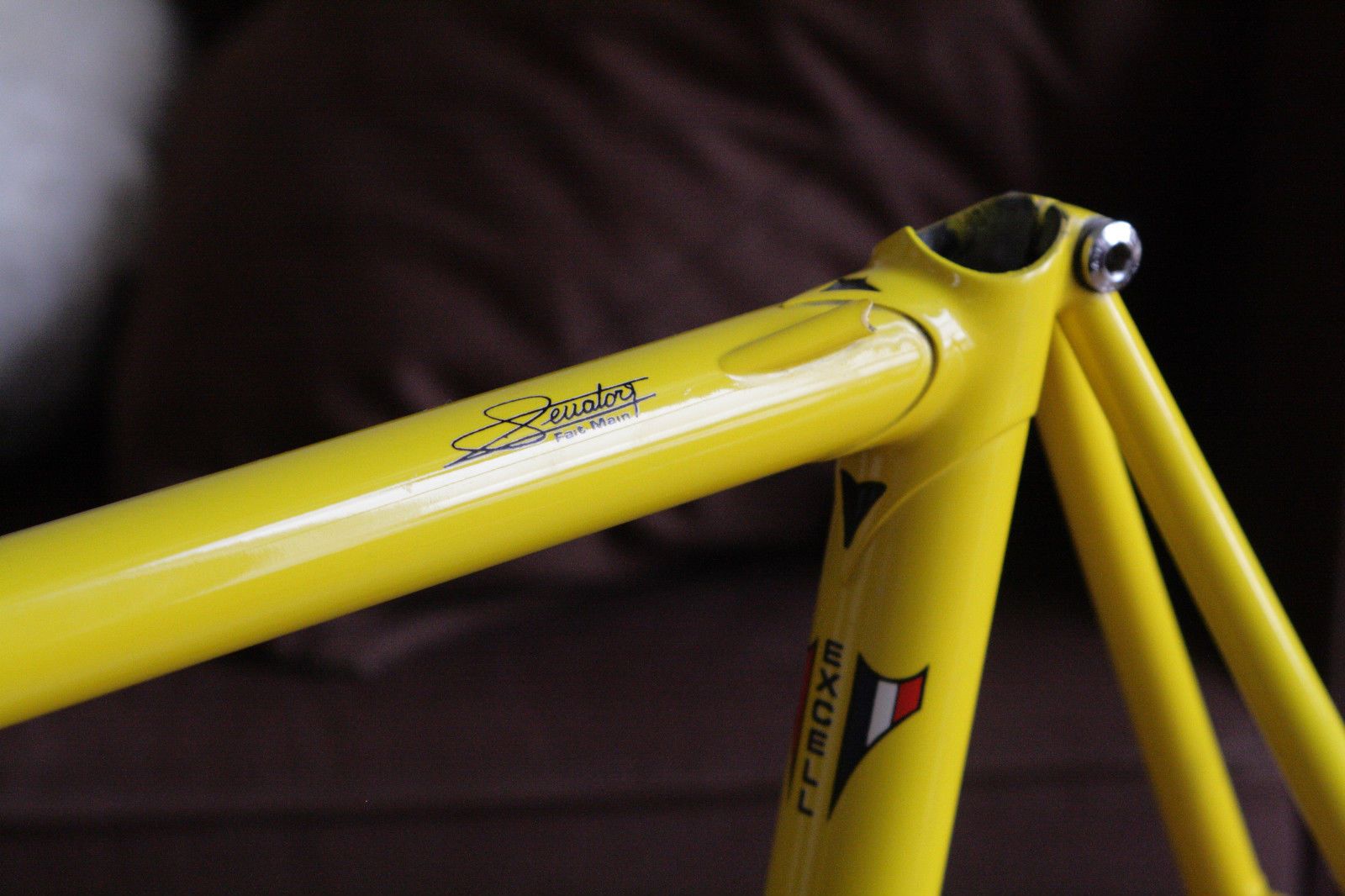 le mien en perlé